Legends of Astravia
Developer's Log - March 2022
---
Hello everyone,
It's been a couple of months since I published a proper developer's log. Sorry to keep you waiting!
Going forward, with each new log, I will:
Provide information regarding development progress,
Make any necessary announcements,
And follow up on the roadmap and the likelihood that Chapter 1 will meet its release deadline.
The hope is to provide plenty of transparency regarding the game's production and whether or not a delay is possible. I am (currently) still confident in Chapter 1 releasing by the end of this year, but I want to make sure that everyone who has supported the game up to this point knows well in advance if things might not go fully as planned.
With that, let's see how Legends of Astravia's development is going!
Demo Release Recap
On February 14th, I released the demo for Legends of Astravia on Steam for Windows and MacOS.
Since then, the game has been downloaded over 2,500 times! Many of you have provided me with useful feedback, reported bugs, and even showcased the game via Let's Play streams and videos.
Having consistently worked on the game for the past 4 years, I could not be happier with such a reception. I am so grateful for everyone's support and enthusiasm about the game so far, and I can't wait to share more of it with you.
Thank you so much!
Progress Report
A lot of progress was primarily made on the "backend", that is, programming, planning, and preparing the game for developing all of the content within Chapter 1.
Under the Hood
Reworked the character speed algorithm
Character stat balancing adjustments
Battle code optimization
Improved controller checking on startup
Other misc optimizations and fixes
Map Progress
I began roughing out some of the next areas of the game, including a large cave (treasures to be added!):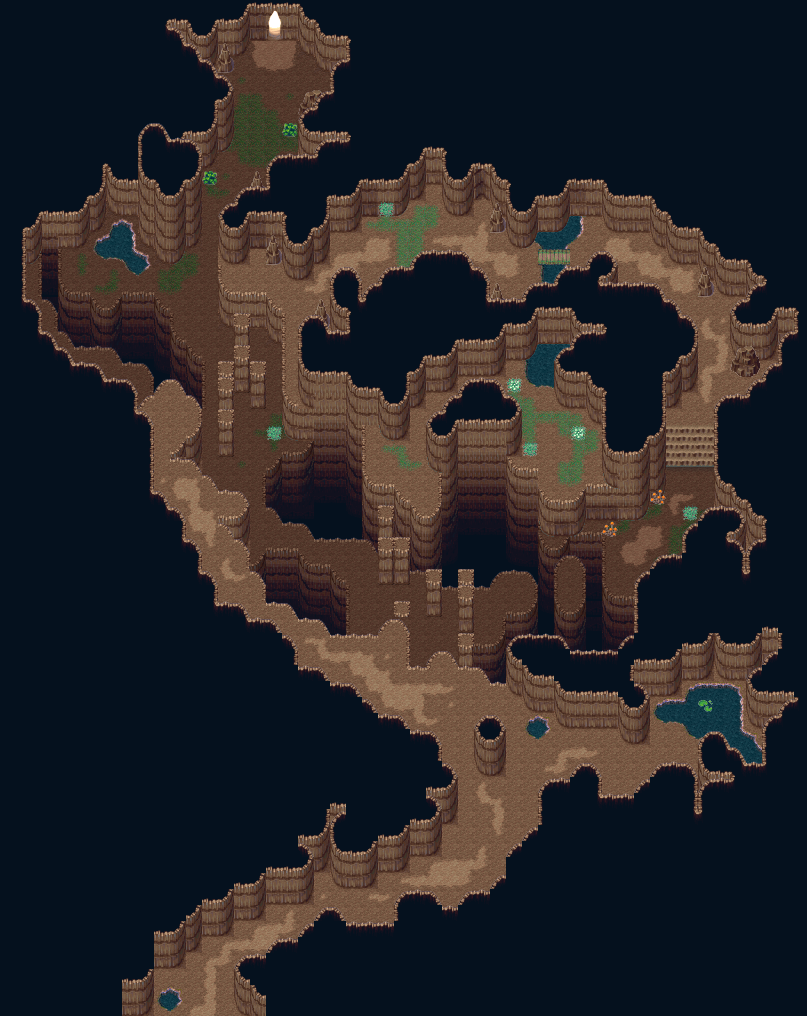 Mordin Village was one of the first maps I made for Astravia, so it's funny to look back at it now. It'll probably have a few small changes made before release, but here's what it looks like now;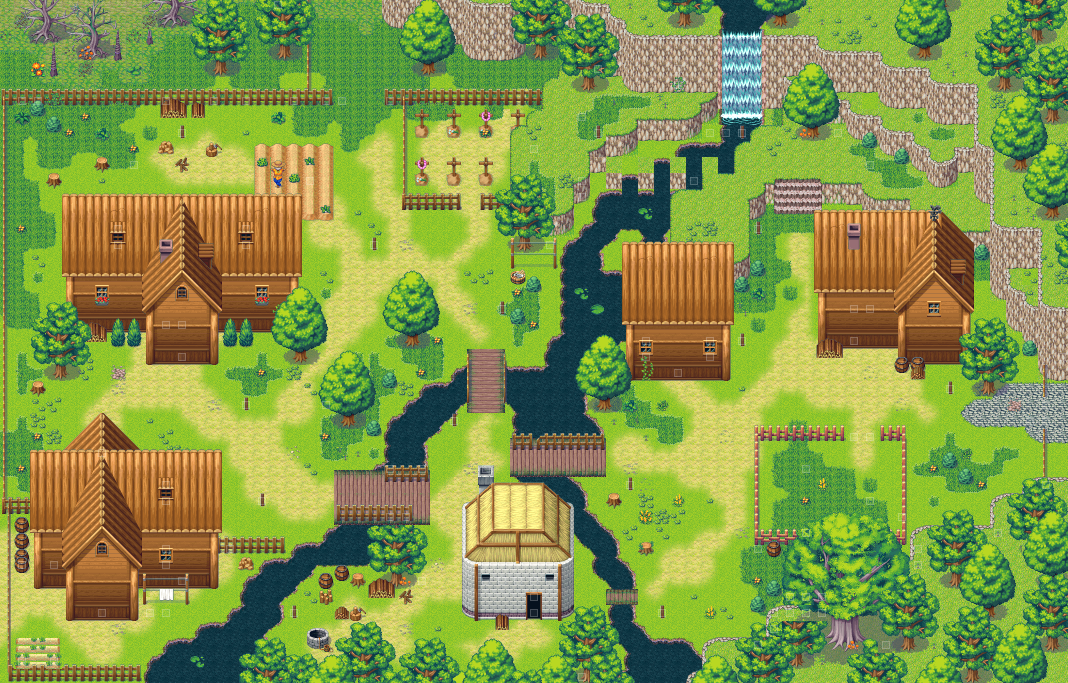 Mordin Village
Speaking of Mordin Village, its main story and quests have all been planned out, and character dialogue is being worked on.
Here's a teaser of some of the characters you'll see. Some of you who saw Astravia in 2019 might remember them:

There are still several more residents who fill the town, each with their own personalities and stories to share.
Character Reveal - Minerva
With almost 900 followers on twitter, I am going to skip ahead of the milestone to reveal the next playable cast member early: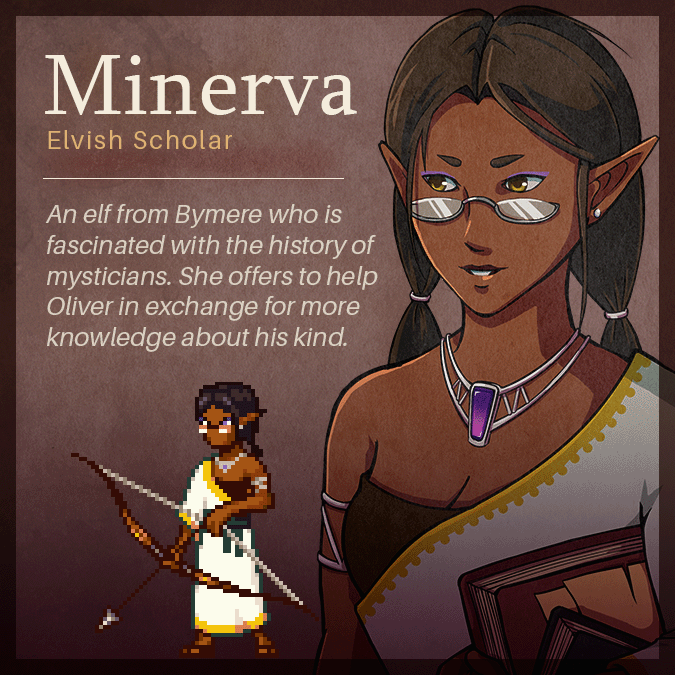 Minerva is a member of the elves, who reign from a town hidden away in the deserts of Bymere. The elves have been around for many years longer than Astravian humans, and it's said that some who witnessed the Great Cataclysm may still be alive in the present day.
However, among the elves, there exist no mysticians...
Minerva offers a wide range of abilities--and knowledge--to Oliver and his team later in Chapter 1. She's fascinated with mysticians, and offers to help Oliver search for answers regarding his memory in exchange for knowledge about his magic prowess.
Secret Announcement?
The reason why progress appears to be a little thin is because I have spent the better part of March working on something extra special, that I cannot yet share.
I can't wait to announce it, so keep an eye out!
Final Demo Patch Plans
There will be one last patch to the demo before the pre-game release one later this year. It'll serve to address a few more issues with the demo to hopefully make players' first experience with the game best it can be.
Here are the things planned for that patch:
Better user experience when an incompatible controller is detected
Audio balancing adjustments
Addressing several bugs:

Missing SFX on some attacks
Dungeon jump gap softlock
Essence tutorial window auto-closing on input

Additional polish on the dungeon end sequence
Improved battle target handling and UI
Linux support
(Secret!)
This patch will be made available by the end of April.
Linux & Steam Deck Support
As I mentioned upon the demo's release, native Linux support would take some additional time to publish. With the release of the Steam Deck, I will be prioritizing this, so that folks can enjoy the demo on the go, too.
At the moment, the game does not support the Steam Deck even through Proton conversion. I am looking into this and am aiming to have it working and supported with the release of the next patch.
Roadmap Update
As promised, I will be detailing the game's roadmap and whether or not things are on schedule for Chapter 1's release.
Currently, I am a little behind. The demo release and all of the things I did afterwards took some time that would have otherwise been used for creating game content.
That said, the roadmap is still as follows:

If you are interested in participating in beta testing, please keep an eye on these developer's logs, and join the Official Discord server to be notified!
Beta testing is a core aspect of the game's success, and I'm incredibly grateful for the time folks have volunteered to provide feedback on the game when it's in an incomplete state.

---
That's all for now! Thank you as always, everyone, for your support as I continue development.
-Jaiden